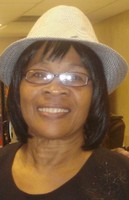 Bishop Doris Hutchinson
Bishop Doris Hutchinson is the Regional Director for the Ministry. She is a Prophetess to nations and a great Intercessor! She holds several ordinations through ministries in the United States of America and Jamaica. She has been in ministry for over 40 years! She has travelled through the USA, Canada and Jamaica ministering to countless souls and winning many to Christ!
She believes in Hebrews 12: 14 which states, "Pursue peace with all people, and holiness, without which no one will see the Lord." She is determined to see people from all walks of life and all ages live holy lives unto the Lord. She has great compassion for souls and in particular for the youth.
In addition to her various ordinations and ministerial roles - past and present - not only is Bishop Hutchinson a mother to persons worldwide, she is the mother of 5 children, all of whom work in some aspect of ministry!